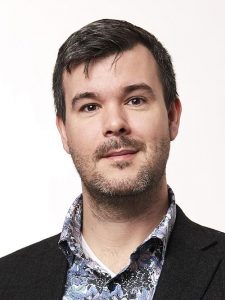 Research

Ryan Rumble is an organizational theorist specializing on queer/LGBTQ+ social dynamics in family businesses.
In addition, Ryan is also a methodologist and is active in developing innovations for and extensions to set-theoretic methods, such as Qualitative Comparative Analysis (QCA), with a particular focus on configurational outcomes.
Ryan has published empirical, practitioner-orientated, and public-outreach articles on the subject of strategic tools and their use in business practice. His research has been presented at conferences across several countries throughout the US, Europe, and Oceania. 
Teaching
Ryan is the Programme Director for three master's programmes: Global Management, Strategic Entrepreneurship, and International Logistics & Supply Chain Management. 
He currently teaches master's courses in the fields of strategy, entrepreneurship, and digital business, in addition to administering the internship course in business administration. He has previously coached entrepreneurs in new venture development at the University of Gothenburg, Sweden (in collaboration with GU Ventures), and taught intercultural management, innovation, and research methods at Grenoble Ecole de Management, France.
In addition, Ryan has also developed several pedagogical and strategy tools, including Just Suppose (https://justsuppose-app.herokuapp.com/) and the Startup Jungle (https://www.brainspotexecutive.se/startup-jungle/)
Biography
Ryan Rumble is an Assistant Professor and Programme Director in Business Administration at JIBS. He defended his PhD on business model ontology at Université Grenoble-Alpes, France, including a visiting position at University College Dublin, Ireland. He completed his MSc in Knowledge-based Entrepreneurship at the University of Gothenburg, Sweden, where he was awarded the Malmsten Best Thesis Award for his dissertation on value co-creation in the recipe bag ('matkasse') industry. He received a BA (Hons) from Oxford Brookes University, UK, in Retail and Business Management.
For more information, please visit my website.